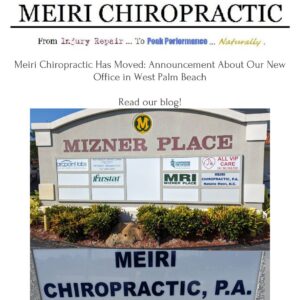 Dr. Natalie Meiri is pleased to announce the new location of Meiri Chiropractic in West Palm Beach, Florida. It is conveniently located in Mizner Place on the corner of 45th street and I95 in West Palm Beach! We value you as a patient and hope you will come to our new office for all your chiropractic care needs.
This office will still provide state of the art equipment and plenty of parking. I am still in private practice and haven't joined a group. Other than our change of location, nothing about our practice will change. Dr. Natalie Meiri will continue to serve as the practice's sole owner & chiropractor, and continue to provide all services, one-on-one with patients.
Our office will continue to provide the best care possible and accept the same insurance plans.
Through regular chiropractic visits, you can get pain relief and improve your health without drugs or surgery!
At Meiri Chiropractic we spend the time necessary to examine, diagnose and treat every neuromusculoskeletal condition and various ailments you have.
Truly, Chiropractic is a holistic and natural way to not only treat existing conditions, but to keep your body in its best working condition. And we have been offering effective chiropractic care in Palm Beach county since 2006.
Treatment services include:
Chiropractic Manipulative Treatment- "hands on" care for your joints, including Diversified, Flexion-Distraction, Thompson Terminal Point, Sacro-Occipital, and Motion Palpation Techniques
Soft Tissue Techniques- active and passive therapy for your muscles and connective tissue, including Myofascial Release, Pressure Point, and Post Isometric Relaxation Techniques
Therapeutic Exercise- for stretching, strengthening, stabilization and posture correction
Electric Muscle Stimulation, Ice and Heat Therapies- for pain relief and inflammation reduction
As your Chiropractic Wellness Doctor, Dr. Natalie Meiri offers Homeopathic consultations for overall wellness. Homeopathy can be used beneficially in conjunction with Chiropractic. Homeopathic recommendations and prescriptions also help patients reduce healing time and minimize their pain naturally.
We will continue to treat patients with a wide variety of conditions including but not limited to:
* Neck and Back Pain *Hip, knee, leg, ankle, and/or foot pain
*Shoulder, arm, elbow, wrist and/or hand pain
* Tension Headaches *Carpal tunnel, other neuropathies
* Migraine Headaches *Arthritis and Joint Pain
* Sciatica *Disc Herniations
*Muscle Strain *Sports, dance and work injuries
*Auto Injuries *Jaw and TMJ pain
*Scoliosis *Rotator Cuff Injury
* Chronic Pain and Fibromyalgia Syndrome (F.M.S.) *Digestive System problems
*Posture/Balance Problems *Pregnancy related problems
* Kids'/babies' ear-aches/ infections and "growing pain", bed-wetting, sleep issues, colic/ irritable baby syndrome, behavior and/or concentration issues
* Stress, anxiety, and/or insomnia * Premenstrual, menstrual or menopausal symptoms
* Help with asthma and/or breathing problems *Vertigo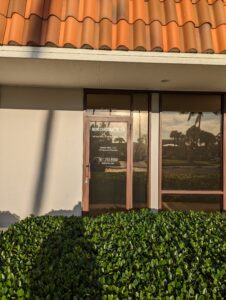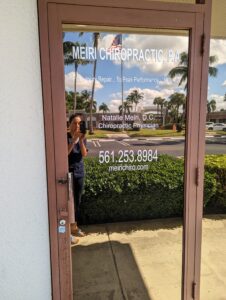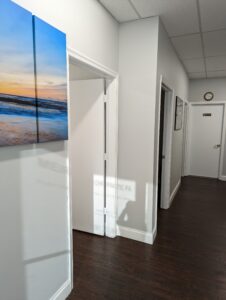 *Wellness is a wonderful benefit of regular chiropractic care!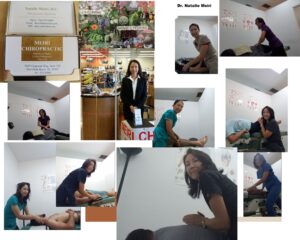 Firstly, change can be difficult, but we will make the transition as smooth as possible for you.
Secondly, many patients have already started care at the new office in West Palm Beach and referred their friends and family.
Thirdly, as always, I will be there to help. I have included all the details regarding our new location and address below. The phone number, website, and email remains the same.
Fourthly, if you have any questions or concerns, please feel free to contact me or drop by the office. As I have been for 17 years, I am by appointment during the hours of 9-5 Mon-Fri and now Sat 9-12 (extending our office hours).
Lastly, it is always a pleasure working with you and I look forward to seeing you at our new location!
Blessings,
Natalie Meiri, D.C.
Meiri Chiropractic
New Office Location in Mizner Place:
5601 Corporate Way, Ste 102
West Palm Beach, FL 33407
Same Phone Number: 561-253-8984
website: www.meirichiro.com
email: doctor@meirichiro.com
Office Hours:
Monday – Friday
9:00 a.m. – 5:00 p.m.
Sat 9 a.m.- 12:00 p.m.