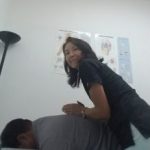 Testimonials- Read what patients say:
"Of all the chiropractors I have been to, none have created the individual treatments that Dr. Meiri has. With her vast knowledge and extensive skill set, she has been able to create a healing plan tailored just for me! Dr. Meiri is an outstanding natural healer!"
-Cameron Siegler
"Thank you Dr. Natalie Meiri for giving me my life back! No more pain! I honestly didn't think that was possible. Even though I had seen you before I didn't know it would ever help to the degree it has. Honestly I didn't see any way that the gentle touch you use would be able to fix the mess I had gotten myself into. It's truly a miracle! I feel blessed to know you and be able to have that level of care. Everyday I'm getting better and I owe that to you! Thank you for your kindness! You are one of the sweetest most genuine people I know. I love your sense of humor and enjoy learning about the technique you use to heal. I am definitely a believer! I will never go back to the harsh adjustments many use. I don't think anyone would once they've experienced the truly amazing way the body is restored! I'm a fan and patient for life!!"
-Susanne Alea
"I had a lot of pain in my neck, back, hips and legs. I also have had Polymyalgia Rheumatica for 14 years which makes my condition more complicated and difficult. After treatment with Dr. Natalie Meiri, it is a lot better. Additionally, the restless leg syndrome I have is a lot better with treatment."
-Mary Ross Arel
"Dr. Meiri is a breath of fresh air. I have been to many chiropractors and her skill, knowledge and technique surpass others. The adjustments are personally specific to me! Every other chiropractor gave the same adjustment to all regardless of their different pain issues. She is gentle and successful at moving me from injury to repair!"
-Pietera Siegler
"I tore my meniscus playing softball. I had a M.R.I. Because of COVID-19, I couldn't get surgery. I started therapy with Dr. Meiri. After treatments with Dr. Meiri, my meniscus has healed. There is no more pain. This was done without surgery."
-Ronald Horne
"Dr. Natalie Meiri has treated my wife Joy and me on multiple occasions. Her office is well run and on schedule with a quiet sense of calm. Her personal style is gracious and professional.
We have been impressed with her medical insights, discernment as to appropriate treatment and effectiveness in helping us become well. Her diagnostic approach is to use her experience and medical knowledge first and augment it with other types of testing only as needed.
I had struggled with a long standing sports injury to my wrist and with three treatments I was well and have not had recurring difficulty. My wife had shoulder pain that was affecting her daily activities and sense of well being. After four months of regular treatments, her condition improved to the point of no longer needing therapy.
My wife and I enthusiastically recommend Doctor Natalie Meiri to any and all needing chiropractic care."
-Pastor Don Bray and wife Joy Bray
Christ Fellowship Church
A few months ago, I was involved in a horrific car accident. My car was completely totaled, as I was the driver of the car who was impacted. T-boned from the passenger side, my car and what seemed then my life, was destroyed. My initial injuries were that of trouble standing, moving, extending some parts of my body for the first week of the accident. Then I met Dr Natalie Meiri. She changed my life beautifully. She is extremely kind, caring, thoughtful and so understanding. I was treating for about 4 months and I feel amazing. This was my first chiropractic experience and I am so grateful I chose Dr. Natalie Meiri. She is well-knowledged on extremities, nerve, muscle, and all other types of pain you can think of. I will treasure her and her work and all that she has done for me for a lifetime. I recommend anyone who is looking for chiropractic relief or therapy to come to Dr. Natalie Meiri. I will miss her, but I know that she will always be a phone call away."
-Z.A.
"My husband and I feel blessed to have Dr. Natalie as our chiropractor and our friend. She brings comfort and healing to our bodies and souls. Respectfully,"
-Robyn and Leon Matthews
"Several years ago, I came to Dr. Natalie at the recommendation of a friend. I had lower back pain. She worked wonders. I have also fallen and had knee and shoulder issues. With getting adjusted and soft tissue work, I am pain free. She has also recommended exercises that I do between visits. These are a great help. I would recommend her to anyone who needs a chiropractor."
-Victoria Nesmith
"Dr. Natalie Meiri is thorough in her approach in the treatment of issues involving pain and discomfort in the extremities. The adjustment, soft tissue therapies in tandem with homeopathic remedies worked wonders for the neck, shoulder, and upper back pain I was experiencing. After repeated sessions, I was back to normal health and pain free. I fully recommend choosing Dr Natalie Meiri as your chiropractor of choice."
-Robert Szczerbacki
"Dr. Natalie Meiri has been a tremendous help in my life. I first went to her with back pain. With her treatment, I am pain-free! I also have had feet problems which she has been helping to align and adjust so that my gait is better. She is truly a wealth of knowledge; has a special interest in helping her patients optimize their health potential through the full spectrum of therapies. Thank you Dr. Meiri!"
-Lisa Warch, R.N., BSN
"I injured my shoulder in a fitness class and as a result was scheduled for physical therapy. I did not get the results I had hoped for and decided to see Dr. Natalie Meiri for treatment. Dr. Natalie was able to treat my shoulder with much success. I regained full range of motion and am very pleased with the entire outcome. Thank you Dr. Natalie Meiri."
-Charlene Klaas
"Great improvement with homeopathy and expert treatments!"
-Susan Deckert
"Very concerned and cares about the patient/person. Spends copious amounts of her time to define the issue and work on solutions. Thanks."
-Ben Smith
"I first met Dr. Meiri at a community health food store, where she very freely shared info. regarding her services and answered questions. I've been being treated for a few months now with steady progress in comfort and mobility/flexibility. She teaches how to maintain my health. She is gentle and doesn't need to apply excess force!"
-J.K.
"In September, 2021, I began chemotherapy treatment for breast cancer. One of the common side effects is nausea. My oncologist prescribed a medicine for it, but it did not work. He prescribed another medicine, to try alone, and then in conjunction with a steroid I was also taking. Neither of those helped either. Then I got some help from Dr. Meiri, who put me on a course of homeopathy at that time. Within a few days, the nausea subsided and then went away. I am very grateful to her for helping me deal with this awful issue."
-Andrea Hellin
"I was having an issue with my back, but also found I have a shoulder issue which could cause me to have surgery for rotator cuff problems. Now I am having chiropractic back and shoulder adjustments for my alignment and physical therapy to strengthen my shoulder. This problem was discovered when I went to Meiri Chiropractic."
-Fae Hopson.
"Dr. Meiri has been very effective in treating an ongoing condition which has caused me a great deal of discomfort in my lower back, hip and leg. She is extremely thorough, listens attentively and explains fully what she is treating and why. I am grateful to have found such a competent and compassionate healthcare professional."
-E.N.
"Came in with a back that was hurting bad from a stupid move lifting a heavy object (mad at self). After one week (3 treatments) she had the back feeling much better, another 2 and she had the leg pain from the back feeling better also, another 1 and she had a 30 year old knee problem that's been acting up on the road to feeling better. Honestly we are down to my shoulder and the work she did on that has it better enough that I can sleep at night, I have to work on ROM myself as well on that. I couldn't sleep very well and really starting to question my ability to hold a conversation from lack of sleep. Very, very gentle, well versed and explained everything to me as we went along. I just can't recommend her enough, you owe it to yourself not to take medication when a non medication treatment could possibly reduce or eliminate it."
-Sue P-B
"It is a pure blessing to finally have proper attention and care. This is a place to come for healing. I am only 4 appointments into my treatments and I feel much better. Thank you so much!"
-Jay Williams
"After my first appointment, I felt better almost immediately on my way home. I noticed I had an increased range of motion turning to check my blind spots.
I'm on my eighth visit now. Certainly if this didn't help, I wouldn't have continued to come back. Love what Dr. Meiri does for me!"
-Isabel Ford
"Dr. Meiri is very professional and devoted to her patients' well being. She goes above and beyond to make the chiropractic experience pleasant and personalized. Highly Recommended!"
-Kevin Yaich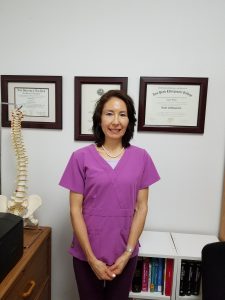 Dr. Natalie Meiri
Meiri Chiropractic – 5601 Corporate Way, Ste 102 West Palm Beach, FL 33407
561-253-8984