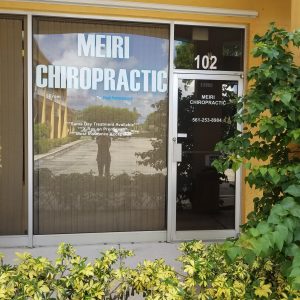 Meiri Chiropractic is OPEN, offering high-quality chiropractic services in a friendly and clean environment. call today!
Natalie meiri, d.c.
Chiropractic Physician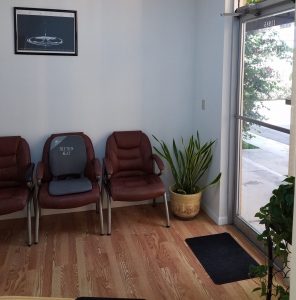 Meiri Chiropractic is OPEN. We are following C.D.C. guidelines. Chiropractic care is essential because you are important. We're committed to help you find wellness and relief.
Dr. natalie meiri
Chiropractic Physician
Our quality chiropractic services can help ease and even eliminate your back and extremity pain so that you can live a healthier, pain free life.
Natalie Meiri, D.C.
Chiropractic Physician
About Dr. Natalie Meiri
Dr. Natalie Meiri is a graduate of New York Chiropractic College, and holds a Bachelor's Degree from New York's Stony Brook University. As your Chiropractic Wellness Doctor, she is dedicated to providing gentle, quality care in Palm Beach County since 2004. Her North Palm Beach chiropractic office, opened in 2006, is conveniently located minutes from Palm Beach Gardens, Jupiter, Juno Beach, and West Palm Beach. She is committed to providing the highest quality personalized care five days a week, with emergencies seen the same day and on weekends. As your Chiropractic Wellness Doctor, she is well-informed of the lastest research in her field and applies evidence-based techniques tailored to your needs. She treats children, athletes and the elderly with the following:

* Neck and Back Pain *Hip, knee, leg, ankle, and/or foot pain
*Shoulder, arm, elbow, wrist and/or hand pain

* Tension Headaches *Carpal tunnel, other neuropathies
* Migraine Headaches *Arthritis and Joint Pain
* Sciatica *Disc Herniations
*Muscle Strain *Sports, dance and work injuries

*Auto Injuries *Jaw and TMJ pain
*Scoliosis *Rotator Cuff Injury
*Wellness is a wonderful benefit of regular chiropractic care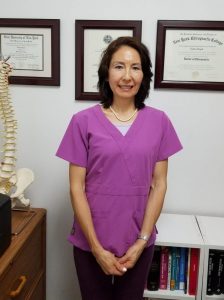 There are many conditions that may be helped by Dr.Natalie Meiri, who is your Chiropractic Wellness Doctor not listed here. Chiropractic care is a natural approach to better health that is proven safe and effective. Please feel free to contact her to discuss if you are a candidate for Chiropractic care.
Terri H.
I have been delighted to be a patient of Dr. Natalie Meiri since 2008. I came to see her due to muscular pain in my back, which I had suffered with for 10 years. From the very first visit, I found relief from the pain and wondered if it would be lasting relief. After seeing Dr. Natalie several times a week for several months, I found lasting relief. I continue with monthly visits to keep my back pain free. I have also relied on the expertise of Dr. Meiri for relieving Planter fasciitis along with knee problems that have come over the years that I have been her patient. I am truly grateful for her knowledge, expertise and care she has given me over the years.
T.H.
Tammy R.
I was diagnosed with severe carpal tunnel in my right hand and moderate carpal tunnel in my left hand in July 2014. I did not want to have surgery. I started seeing Dr. Meiri for treatment in July 2014. Over a year later, my hands feel much better. Her treatment of adjustments, soft tissue techniques, exercises and homeopathic prescriptions have definitely helped!
T.R
Gregory J.
I want to thank you for the very effective treatment you provided me regarding the neuropathy and Plantar Fasciitis I have suffered in my feet and ankles for many years. Your approach to treating the 'nerve entrapment' in my legs was unique & proved to be quite healing. My only regret is that I wish our time in FL could have been extended, so that I could have continued treatment w/you! Rest assured, I will return to you for further treatment, should I continue to have these issues. I have started the homeopathic treatment you have prescribed & will be in touch soon as a follow-up to your initial assessment. God Bless you and your continued chiropractic care. April 30, 2020

G.J.