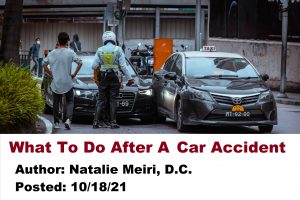 From Dr. Natalie Meiri's Clinical Pearl Stories:
What To Do After A Car Accident
Author: Natalie Meiri, D.C. Posted: 10/18/2021
This was a 47 year old mother and her 13 year old daughter with chief complaints of neck, back and extremity (arms and legs) injuries. They presented to my office 1 day after sustaining injuries from a car accident. Their car was hit on the highway and ended up rolling down a hill. To be HIPAA compliant, I will call the mother Sun and the daughter Yang instead of their real names. Sun was a long time patient of my office and knew the benefits of chiropractic. She knew What to do after a car accident! Sun knew chiropractic physicians examined, diagnosed and treated neuromusculoskeletal conditions. Moreover chiropractic care after a car accident can get you out of pain naturally. After all, pain medications can be harmful and additive.
Examination and X-rays
Upon examination, I found positive tests for a sprain diagnosis for all Sun's injuries (neck, back and right shoulder). Similarly, upon examination, Yang also had a sprain diagnosis for all her injuries (neck, back and left foot). They had suffered a whiplash injury (injury due to forceful, rapid back-and-forth movement). Sun had bruising from the seat belt across her abdomen and had twisted her right shoulder. Yang had similar injuries from the seat belt, but had somehow twisted her left foot.
The x-rays taken in my office showed mild osteoarthritis in Sun's right shoulder, cervical (neck), thoracic (mid back) and lumbar (low back) spine. This is the "wear and tear" type of arthritis. However, Sun's sprains from the car accident was her diagnoses for the auto injury. The osteoarthritis was solely a finding on the imaging. Furthermore, an important finding on Sun's cervical (neck) x-rays were the instability in her neck shown on the lateral (side view) stress views. One of her vertebrae in her neck had ligamentous instability (stretched or tiny torn soft tissues, but not ruptured) from this accident.
Both Yang and Sun had decreased cervical lordosis (decreased normal curve in the neck) consistent with cervical myospasm (muscle spasm) on their cervical x-ray. The foot x-ray of Yang's left foot ruled out a fracture. I would order an MRI (magnetic resonance imaging) if there was no improvement after 12 visits.
Chiropractic Treatment
Starting at 3 times a week, it took many months of care. Firstly, treatments included chiropractic adjustments/ manipulation. Secondly, soft tissue therapy (myofascial release, pressure point and various post isometric relaxation procedures). Thirdly, modalities (cold/heat therapy and electric muscle stimulation) were administered as needed. Finally, therapeutic exercises to continue treatment at home were given.
Both Sun and Yang started to feel better from the first week of treatment. After months of treatment, their conditions were stable and they were both back to their normal daily activities.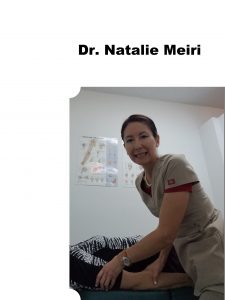 What are some auto accident injury symptoms?
Neck pain from whiplash. The pain can range from mild to severe. It might be in one spot, a general area, or radiate down the shoulder into the arm and/or hand. This can be caused by ligament sprains or muscle strains, but also by injuries to discs, nerves, joints, and/or bones.
Neck stiffness or reduced range of motion. Reduced neck mobility could be from pain, irritation of the cervical facet joints, or spasm of the cervical muscles.

Headache

. This could be from neck muscle tightening/spasm. Also, a nerve or joint irritation of the spine could cause headaches.

Neck instability

. This whiplash symptom commonly results from stretched or torn soft tissues, such as ligaments. Although, it could also be caused by a fracture.

Back and extremity (arms and legs) pain

. Your back can also suffer whiplash (acceleration/deceleration injuries) during an auto accident. Subsequently, your back can refer pain to other soft tissues in the upper back and shoulders or legs. Of course, you can also separately sprain or strain your extremity as well during the collision.
Patients respond well to chiropractic care after whiplash.
For some people, whiplash symptoms can be minor. For others, the symptoms can become varied and chronic, ranging from severe pain to cognitive and emotional problems. Some patients often complain of other symptoms and signs such as blackouts, visual disturbances, nausea and vomiting, and chest pain. Also, a nondermatomal pattern (a large area of sensory finding) of pain and deficit is common.
Sometimes whiplash symptoms persist or get worse with time. Whiplash symptoms might manifest immediately following the acceleration-deceleration accident, or they can take a few hours or days to appear.
Even low-speed rear impact injury crashes (LOSRIC) account for as much as 80% of rear impact collisions. The range of speed in these types of crashes are between 6 and 12 mph.
Results from a study showed an association between a history of neck injury in a motor vehicle accident and chronic headaches, disabling neck pain, and a perception of lower general health compared to those with no history of neck injury. This is why it is so important to get care right away as Sun and Yang did.
The good news is, recent encouraging research indicates that patients with symptoms of whiplash injury respond well to chiropractic care!
Meiri Chiropractic, the Best Chiropractic Care Center in West Palm Beach, offers chiropractic treatment for car accident injuries and other ailments. What to do after a car accident? Call 561-253-8984 to schedule an appointment!