Chiropractors help athletes improve performance through correcting misalignments in their skeletons. And although most think of chiropractors as "cracking backs", in actuality, chiropractors are specialists in neuromusculoskeletal conditions of the spine and extremities (arms and legs). Chiropractors examine, diagnose and treat neuromusculoskeletal conditions. Above all, Chiropractic is beneficial to professional, amateur and weekend athletes, maximizing athletic performance and preventing and managing injuries. Read below about how Chiropractic empowers athletes with better performance.
Chiropractic Empowers Athletes With Better Performance: professional

athletes
Experts estimate that 90 percent of all world-class athletes use chiropractic care to prevent injuries and increase their performance potential. Some professional athletes seeking new strategies for gaining a competitive edge have included:
Michael Phelps: The Olympic gold medalist in swimming
Lance Armstrong: The professional road racing cyclist
Michael Jordan: The basketball legend
Arnold Schwarzenegger: The body-building legend, movie star, and former Governor of California
Tom Brady: NFL's top quarterback
Tiger Woods: Golf legend
Joe Montana: the great football player
Arnold Palmer: The late golfing legend
Cristiano Ronaldo: The great soccer player
The National Football League (NFL) have chiropractors on staff. The major league baseball (MLB) also has chiropractors on duty due to the body mechanics of playing baseball. Similarly, the same goes for the PGA professional Golfers Association, looking to chiropractic for a healthy back. Certainly, as an effective approach to achieving overall wellness and advancing preventive care, chiropractic has gained wide use by professional athletes.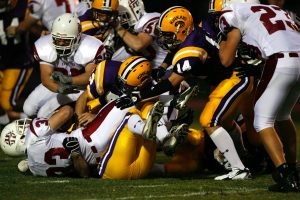 Chiropractic Empowers Athletes With Better Performance: professional, amateur and weekend athletes
Treating collegiate, Olympic and professional athletes has helped DCs gain wider recognition, creating a growing demand among younger athletes who benefit from chiropractic care in the areas of acute care. This is important since the typical primary care physician lacks the education to deal with biomechanical and neuromusculoskeletal dysfunction. Participation in high school and college sports is up. Chiropractic is utilized by high school and college level sport athletes more and more.
Moreover, as the baby boomer population ages, Doctors of Chiropractic (DCs) are treating more retirement- age patients who want to maintain their athletic ability. Regular chiropractic care eliminates acute and chronic pain, increases flexibility, enhances strength and balance. This improves their overall quality of life.
Numerous studies support the fact that chiropractic care helps athletes achieve an optimal level of performance. A Canadian research team included chiropractic care in the rehabilitation program of 16 injured female long-distance runners. The runners recovered quickly; seven of them actually scored "personal best" performances while under chiropractic care.
Your West Palm Beach Sports Chiropractor: Dr. Natalie Meiri
Dr. Natalie Meiri treats all the joints of the body with adjustments. In addition, as a sports chiropractor in North Palm Beach, she augments traditional chiropractic care with soft-tissue treatment methods such as myofascial release, muscle energy technique or post isometric relaxation. Dr. Natalie Meiri, a chiropractor in West Palm Beach can correct poor posture, spasms and difficulty in movements.
Skeletal misalignments are common among all athletes. Firstly, Chiropractic care is known to correct the misalignments. Secondly, Chiropractic eases the pain and improves overall wellness. Thirdly, visits to a chiropractor can help athletes increase their energy and range of motions. Finally, for athletes, going to a chiropractor today may significantly reduce the possibility of having worse skeletal problems tomorrow.
Chiropractic care has a lot of benefits which can help everyone improve their health. In conclusion, it is a very wise decision to visit a chiropractor regularly.
If you are looking for a West Palm Beach chiropractor who can help you improve your performance or if you just want to improve your health and wellness, Dr. Natalie Meiri can definitely help you. Call 561-253-8984 today.