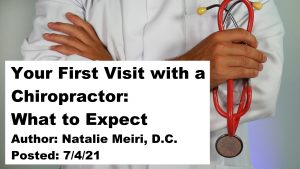 It is estimated that chiropractors treat more than 35 million Americans (adults and children) annually. 3 in 4 patients who received chiropractic care in a 2018 study felt it was effective. In a comparative-effectiveness trial, 94% of manual-thrust manipulation (chiropractic) recipients experienced a 30% reduction in their pain, compared with only 54% of medical care recipients. Yet if it is your first visit, you might be feeling nervous? It can help to gain a better understanding of what a typical visit looks like. Read on for some information about Your First Visit with a Chiropractor: What to Expect. This will help you feel prepared when you go in for your first chiropractic visit. This will help you feel less nervous.
Choosing a Good Chiropractor
Firstly, you need to pick the right chiropractor for you. So how do you choose a good one? It's important that a chiropractor is willing to give you a personalized treatment. At Meiri Chiropractic we carry out treatments after a thorough history and examination to get a proper diagnosis. Because an accurate diagnosis is crucial to ensure the treatment is focused on what your body needs.
Each chiropractor may have a different approach to their treatment. And they have training from different schools. Some might also treat different health conditions. For instance, many chiropractors are versed in treating sports injuries, whiplash or extremities as well as the spine. Conversely, some only treat the spine. Find out what you can ahead of time by reading the chiropractor's website. Also, call and ask to speak with the doctor. Check on the chiropractor's qualifications and the treatments they offer. Double check the chiropractor's qualifications/ licenses online.
At Meiri Chiropractic, we are happy to answer questions and discuss your condition for free prior to your visit. After all, Your First Visit with a Chiropractor: What to Expect can make all the difference in your healing.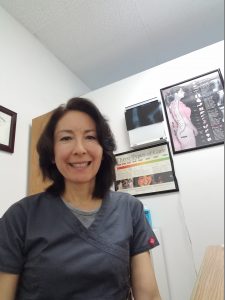 Insurance and payment
More and more insurance companies are offering coverage for chiropractic care as research is showing how effective the treatment can be for both preventative and curative medicine. But you need to find out before you make your appointment. Meiri Chiropractic is always happy to check on your insurance (we accept insurance, medicare and cash). Of course, if your insurance provider does not cover chiropractic care, you can find a chiropractor who accepts cash and offers quality, personalized care for you and is affordable. Your health is your wealth and you are saving money in the long run with chiropractic care. Moreover, be aware that when it comes to your health, the cheapest isn't always the best.
Make an Appointment
There may be a chiropractic clinic near you that will see walk-in patients. However, making an appointment will ensure you are seen at an exact time. By just walking in, you risk not being seen or waiting along time. At Meiri Chiropractic, same day treatment is available for emergencies. And there is very little wait time or no wait time if you make an appointment in advance.
Initial visit
The doctor of chiropractic starts by taking your history, and then performs a physical examination, to include the assessment of spinal and musculoskeletal joint function. The chiropractic examination focuses on evaluation of joint pain or tenderness, asymmetry, changes in range of joint motion, muscle tone and strength, posture and spinal or other joint stability. The chiropractor will also do tests (orthopedic, neurological, physical examination tests) as any other doctor would. Furthermore, imaging such as MRI, CT scan or X-ray may be indicated.
With the combination of the history, examination, and diagnostic studies, your chiropractor will determine your diagnosis. Finally, the doctor will explain the clinical findings, recommend a treatment plan and review the prognosis (likely outcome) and benefits of all procedures. This last part of your visit is the review of findings. However, many times the review of findings maybe on your next visit.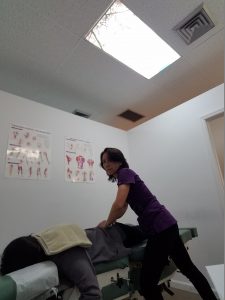 Initial Treatment
Most chiropractors also begin treatment during this initial visit. Through a process of shared decision-making, you and the doctor will determine if it is appropriate to proceed with a trial of chiropractic services.
Some common treatment modalities they'll use include:
Manual (by hand) neck, spinal and extremity adjustments
Soft tissue manipulation
Healing modalities (electrical stimulation, hot/cold application, etc.)
Stretching and/or strengthening exercises to help improve muscle balance, coordination, and strength
Based on the clinical indications, timing or severity of your condition, chiropractic interventions may require a series of visits in order to relieve pain and improve joint function. Your chiropractor may also talk to you about ways that you can manage your pain and condition outside of the office. This might include adjusting your workspace to make it more ergonomic. They might also suggest making changes to your nutrition to reduce inflammation and promote faster healing.
Visit a Chiropractor Today
Now that you know about your first visit with a chiropractor: what to expect, are you ready to give it a try?
Chiropractors focus on disorders of the musculoskeletal system and the nervous system, and the effects of these disorders on your general health. These disorders include, but are not limited to: back pain, neck pain, pain in the joints of the arms or legs, and headaches. Whether you're dealing with an acute injury, chronic pain, or just need some help for better health, we are here for you. Call Meiri Chiropractic today at 561-253-8984 for an appointment or to ask about Your First Visit with a Chiropractor: What to Expect.
References:
Schneider M et. al. Comparison of spinal manipulation methods and usual medical care for acute and subacute low back pain. Spine 2015; 40(4):209-217.
"One in Four Americans Sought Care for Neck and Back Pain Last Year," Gallup.com, accessed November 2018

Meiri Chiropractic
561-253-8984