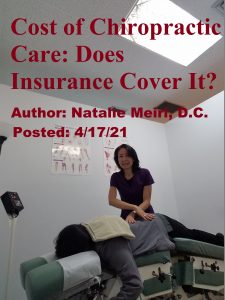 ---
Prospective patients always ask how Meiri Chiropractic is able to help them. Chiropractic care can help with a range of health issues, including chronic/acute pain, and dysfunction. It also keeps you at your peak performance with wellness chiropractic care. Next, a common question is "how much does chiropractic care cost?" That can be a complicated question to answer. The price a patient must pay can vary based on if and what type of insurance a patient has. Also, price may vary based on what specific services are rendered.
The best way to know for sure if your health insurance will cover a visit is to call us directly to check the details of your policy. Patients usually do not understand the insurance they carry. While prospective patients may have heard about all the great benefits of chiropractic care, often times they are scared away by worries about how much it will cost. In actuality, their insurance may cover some or all of it.
Many insurance plans will cover the full cost of your chiropractic care. This includes the initial exam, any necessary x-rays, and all necessary treatments. Some insurance plans may cover all these expenses no matter what the problem is while other insurance plans will only cover all of these expenses if the patient has sustained some injury, be it in an automobile accident or another type of accident.
Your plan may require a co-pay, you may have to meet a deductible or it may only cover a percentage of a treatment up to a certain dollar amount. Most plans will front at least some or a majority of your chiropractic care bill, making going to see a chiropractor an affordable option.

Cost of Chiropractic Care:
Does Insurance Cover It?
In our office the majority of patients do use their health insurance to help with the cost of their care. We do, however, see patients that do not have insurance. Patients without insurance pay for chiropractic care out of their own pocket. Pricing for the first visit can vary depending on the level of exam performed and x-rays required. After the first visit, a typical treatment price varies based on how many regions are treated. Typical patients in our office have the spine and multiple extremities (i.e. arms, legs, hands, feet) treated at each visit.
No matter how you spin it, healthcare can be expensive. However, visits to the doctors, prescriptions for pain or health management, surgeries, and other healthcare expenses can quickly add up. Medications work temporarily, but are not a long lasting solution. Medications do not alleviate the root cause of the problem. This means you're spending more money on more visits to the doctor or more prescriptions. When problems worsen, surgeries or even hospitalization can be very costly. Additionally, time off work can be costly because of illness or chronic pain.

---
Cost of Chiropractic Care:
Regular Chiropractic Care Costs Significantly Less Than Conventional Medical Care
The study below looked at the cost of traditional healthcare verses chiropractic care. They found that undergoing regular chiropractic care was significantly less than the cost of conventional medical expenses:
Low back pain initiated with a doctor of chiropractic (DC) saves 20 to 40 percent on health care costs when compared with care initiated through a medical doctor (MD), according to a study that analyzed data from 85,000 Blue Cross Blue Shield (BCBS) beneficiaries in Tennessee over a two-year span. The study population had open access to MDs and DCs through self-referral, and there were no limits applied to the number of MD/DC visits allowed and no differences in co-pays. Researchers estimated that allowing DC-initiated episodes of care would have led to an annual cost savings of $2.3 million for BCBS of Tennessee. They also concluded that insurance companies that restrict access to chiropractic care for low back pain treatment may inadvertently pay more for care than they would if they removed such restrictions.
Liliedahl et al (2010), Journal of Manipulative and Physiological Therapeutics
Chiropractic care has been shown to be effective at treating numerous issues, and even doctors that practice conventional medicine recommend it for musculoskeletal conditions. Moreover, chiropractic is natural and does not utilize drugs or surgery for treatment.
Please contact us with any questions regarding the Cost of Chiropractic Care: Does Insurance Cover It? We would welcome the opportunity to provide you and your family with chiropractic care.
Meiri Chiropractic
5601 Corporate Way, Ste 102
West Palm Beach, FL 33407
561-253-8984