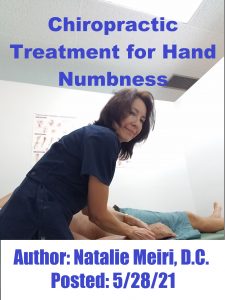 From Dr. Natalie Meiri's Clinical Pearl Stories: Chiropractic Treatment for Hand Numbness
Author: Natalie Meiri, D.C. Posted: 5/28/21
This was a 50 year old patient with a chief complaint of bilateral (both sides) hand numbness. To be HIPAA compliant, I will call her Margueritte instead of her real name. Margueritte permanently lived in another state, but vacationed/worked in Florida several times a year. On her recent visit to Florida, she injured her right hand at the gym.
Firstly, her sports medicine doctor back home had diagnosed her with carpal tunnel in her hands a few years ago. Secondly, she was given a brace to wear at night. Thirdly, she received physical therapy and massages. However, she still had some pain. Similarly, when it was severe it was a 8/10 -10/10 pain level. Moreover, the type of pain she described was mostly numbness and less frequently tingling. Margueritte also felt a clumsiness with precision gripping.
Margueritte worked out at the gym regularly and tried to eat healthy. There was no systemic condition causing fluid retention, diabetes, and/or connective tissue disorder that was contributing to the neuropathy. She wasn't deficient in B vitamins either.
She did work at a computer at work, but there was no trauma when her hands first started to hurt years ago. What brought her to see me was the trauma to the already hurting right hand at the gym while hitting a punch bag without a proper boxing glove a few weeks ago.
Margueritte presented to my office with severe pain in her right hand and mild pain in her left.
Margueritte's Examination and X-rays
Upon examination, there were positive tests for both hands, wrists, cervical (neck) and thoracic (mid back) spine. After that, I took some x-rays of her cervical spine, right wrist and hand. Findings on her x-rays were degenerative joint disease/ osteoarthritis (wear and tear arthritis) of her neck with a reverse lordosis. In other words, the curve in her neck was running in the wrong direction. The right hand/wrist x-ray was "normal" and ruled out a fracture.
Moreover, she had positive tests for the following entrapment neuropathies: in both wrists for the median nerve at the carpal tunnel(s). Also radial nerve entrapment (Cheiraigia Paresthetica/ Wartenberg's Syndrome) between the wrist extensor muscle tendon (extensor carparadialis longus) and the brachioradialis (muscle in forearm) in her right hand. Neurodiagnostic testing (EMG/NCV) would be ordered if there was no improvement within 12 visits. Electromyography (EMG) and nerve conduction velocity (NCV) are tests that measure the electrical activity of muscles and nerves.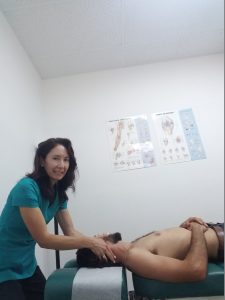 Chiropractic Treatment for Hand Numbness
due to multiple Neuropathies
Margueritte's chiropractic treatment for neuropathy consisted of chiropractic manipulation/ adjustments of both wrists, hands, and associated regions. Associated regions that were adjusted were her cervical (neck) and thoracic (mid back) spine which were misaligned (subluxations or intersegmental dysfunctions) due to the conditions she had. Additionally, soft tissue therapy (myofascial release, pressure point and various post isometric relaxation procedures) to the soft tissues/muscles entrapping the median and radial nerves (i.e. brachioradialis and extensor carpi radialis longus (ECRL), transverse carpal ligament) were provided. Cold/heat therapy and electric muscle stimulation were administered as necessary. Finally, home therapeutic exercises and recommendations for ergonomics/activities of daily living were given. For example, Margueritte was given direction on using rest pads and a split keyboard to help her condition.
The outcome for Margeuritte was excellent! She felt better and much of the numbness and tingling disappeared. She treated 3 times a week for the 4 weeks before she had to leave Florida. By the end of 4 weeks, she showed much improvement even with precision gripping. She would continue treatment back home.
Chiropractic Treatment for Hand Numbness:
Carpal Tunnel and Cheiraigia Paresthetica (Wartenberg's Syndrome)
Median Nerve entrapment at the carpal tunnel causes pain, numbness, and tingling in the palmar (palm side or grasping side) surface of the thumb and radial (toward the thumb side) two and one half fingers. The median nerve runs through an osteofibrous tunnel created by the transverse carpal ligament and carpal (wrist) bones. Although direct compression from ganglions, fractures, and dislocations is possible, it is more common to have a history of direct external pressure on the tunnel or a history of prolonged wrist use in full flexion or extension. Pressure inside the tunnel increases in these extreme positions. In Margueritte's case, her extensive typing at the computer at work was the culprit.
With Cheiraigia Paresthetica (Wartenberg's Syndrome) there is numbness or tingling over the dorsolateral (back and the sides) aspect of the wrist and hand. The superficial branch of the radial nerve is susceptible to trauma between the tendons of the extensor carpi radialis longus (ECRL is a forearm extensor muscle) and the brachioradialis (muscle of the forearm that flexes the forearm at the elbow). Repetitive movements and compression (i.e. tight watch band) are possible causes. Or in Marguerite's case a direct blow to the dorsolateral forearm/wrist during boxing class to a punch bag was the culprit.
There are studies indicating that chiropractic treatment including manipulation of both soft tissue and bony joints of the upper extremities and spine provide significant relief and improvement of nerve and muscle function for patients with entrapment neuropathies in the extremities (limb, feet, hands). It is important to examine other potential sites of nerve entrapment as was the case with Marguerite there was the second entrapment (radial nerve entrapment).
Contact Dr. Natalie Meiri of Meiri Chiropractic today for chiropractic treatment for Hand Numbness! Call 561-253-8984 to learn more or to schedule an appointment.