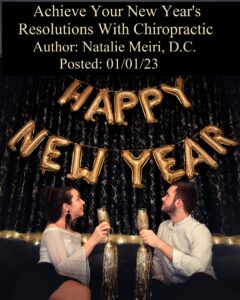 Year after year, we find ourselves making New Year's resolutions. One of the more popular resolutions is to get in shape. However, February rolls around and this is a real challenge. In other words, motivation may be a factor for many people. In addition, pain often gets in the way of their fitness goals. Moreover, your resolution to regular exercise can easily be derailed by nagging ailments and injuries. So are you looking for a natural way to enhance your athletic performance and health in the new year? Chiropractic care may offer a simple solution.
The Chiropractic Adjustment and the Stages of Care
Today, chiropractic is practiced throughout the world. The profession is the third-largest physician-level independent health profession in the Western world (12). The chiropractic manipulative therapy called an "adjustment," is scientifically proven to heal many neurological and musculoskeletal conditions.
The chiropractic adjustment or manipulation is a manual procedure applying a gentle yet firm thrust, typically delivered in the direction of reduced joint motion to restore normal motion and alignment. In addition, Chiropractors also advise and instruct on posture, stretching, exercise, rehabilitation, nutrition, hydration, and stress management as part of their holistic care plan.
The stages of Chiropractic Care include:
Initial Intensive Care which starts your healing and stops the pain.
Corrective care is to complete the healing and protect against re-injury now that your pain is gone.
Wellness Care is for the health conscious who demand optimum performance and body function. In conclusion, while chiropractors treat musculoskeletal injuries, degenerative arthritis/disease, and many other acute and chronic ailments, chiropractors are holistic doctors. Chiropractors focus primarily on healthy living (wellness) and optimization (helping a patient get the best outcome from their body). Certainly, enhancing the sports/athletic performance of the patient falls into this stage.
Sports Performance and Injury Prevention
Chiropractors are well-represented on healthcare teams serving professional, collegiate, high school, and recreational athletes national and across the globe. They assist in management of athletic performance and treatment of sports injuries. All NFL teams and most professional sports teams have doctors of chiropractic as part of the medical staff.
Strength Changes after a spinal adjustment
In a study performed with elite Tae Kwon Do athletes,137 researchers found an 8% increase in strength after a single chiropractic adjustment session. The changes in strength in this study were also thought to be due to an increase in cortical drive. (The brain is able to influence muscle movement more effectively). The researchers concluded that spinal adjustments in this group resulted in increased strength and cortical drive and appeared to prevent fatigue. The strength findings lasted for 30 minutes and the cortical drive increase persisted for at least 60 minutes.
Christiansen et al. (2017) Journal of Chiropractic Education
Strength changes of the lower limb have been documented following spinal adjustments. In a group of college students, one single session of spinal adjustments increased the strength of their leg muscle by 16%. The authors suggested that the changes in strength they observed after chiropractic adjustments is likely due to changes in cortical drive.
Niazi et al. (2015) Experimental Brain Research
In a randomized controlled trial performed with elite Judo athletes, researchers tested their grip strength after three sessions of cervical chiropractic adjustments. After the first session their grip strength increased by an average of 10% across both hands, this increased to 14% after the second and third sessions. No significant changes were observed in the sham group.
Botelho (2012) Journal of Manipulative and Physiological Therapeutics
Other studies have shown that chiropractic adjustments can improve brain reaction times and "joint position sense" of both the upper and lower limbs. Essentially, there is increased ability of the brain to process sensory information faster and more accurately. This results in an enhanced awareness of the position and movement of the athlete's arms and legs. Applying this to the athlete, chiropractic care enhances performance, and helps prevent injuries.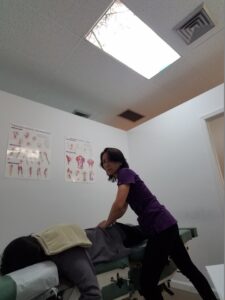 Achieve Your New Year's Resolutions With Chiropractic at Meiri Chiropractic in West Palm Beach
At Meiri Chiropractic we spend the time necessary to examine, diagnose and treat every neuromusculoskeletal condition and various ailments you have. Chiropractic is a holistic and natural way to not only treat existing conditions, but to keep your body in its best working condition. We have been offering effective chiropractic care in Palm Beach county since 2006. Many of our patient reviews note our excellence. Call us today in West Palm Beach at 561-253-8984 to make an appointment. Indeed, you can achieve Your New Year's Resolutions With Chiropractic.
References:
12 National Board of Chiropractic Examiners: About Chiropractic (2017, July) Retrieved from http://www.nbce.org/about/about_chiropractic/